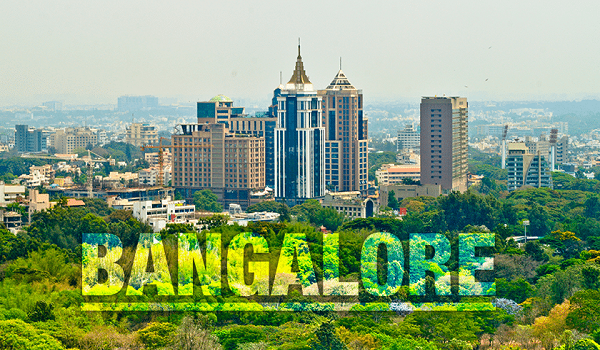 Bangalore, known as Bengaluru, is the Central of the Indian State of Karnataka. Its population is over ten million, making it a megacity and the Third most populated City and 5th most crowded urban agglomeration in India. It is located on the Deccan Plateau in Southern India.
Bengaluru is believed to be the most positive and sought-after place for residential living across the nation. People from other parts of India prefer to settle in the City due to its calm atmosphere, employment prospects, and the scope for domestic entrepreneurs to set up their businesses.
Major Tech parks in Bengaluru are:
International Tech Park Bangalore (ITPB)
Bagmane Tech Park
Rajajinagar IT Park
Manyata Embassy Business Park
RmZ Ecospace
Embassy TechVillage
Embassy Golf Links Business Park
With over 1000 temples, 400 mosques, 100 churches, three Gurudwaras, two Buddhist viharas and even a fire temple, Bengaluru is a diverse city with various cultures and religions coexisting.
Air connectivity
Kempegowda International Airport in Devanahalli, North Bengaluru, serves the air connectivity of Bengaluru city. It is spread over 4000 acres of land, replacing the old HAL airport in Begumpet. It is South India's most occupied airport and the third-largest airport in the country. It is also known as the Bangalore (BLR) Airport has been operational since May 2008.
The airport's cargo village extended over 11 acres of land and began operations in early January 2009. It is expected to boost commerce and trade in Bengaluru, ensuring fast clearances of export and import consignments from the cargo terminals at the airport.
Metro Connectivity
Bangalore Metro, christened as Namma Metro, has been a successful model for Bangalore Metro Rail Corporation Limited (BMRCL). Namma Metro is a major environment-friendly addition to Bangalore City as it significantly contributes to reducing carbon emissions.
Currently, two metro lines are operating in Namma Metro. Purple Line and the Green Line.
The purple line was inaugurated in October 2011, connecting Baiyyappanahalli in the east with the Mysore Road terminal station in the southwest. The line has a stretch of 18.1 km with 17 stations. Its 4.8 km stretch is underground in areas like MG Road, Majestic, etc. This line was extended in August 2021 from Mysore Road to Kengeri. On October 20 2023, Prime Minister Modi officially inaugurated the Baiyappanahalli to KR Puram and Kengeri to Challaghatta sections of the Purple Line.
Major stations in the Purple Line
Rajarajeshwari Nagar
Mysore Road
Vijayanagar
Trinity
Indira Nagar
Bangalore Namma Metro Green line was opened in March 2014 and runs between Nagasandra in the northwest and Anjanapura in the southwest. The length between these two destinations is 30 km, with 30 stations. The Green Line is elevated, only four kilometres and three stations underground. The last extension was done in January 2021, and now it is being extended to Madavara and Silk Institute in the South for 33.5 km.
Major Stations in Green Line
Rajaji Nagar
Sandal soap factory
Yeshwanthpur
South end circle
National College
Railway Connectivity
There are four major railway stations for Bengaluru city handled by Indian Railway.
Bangalore City Junction: Officially known as Krantivira Sangolli Rayanna railway station, it is the main railway station of Bengaluru city.
Yeswantpur Junction: Bangalore's second major railway station is located in the north part of Bengaluru. Many long-distance trains start from Yesvantpur Junction.
Krishnarajapuram: Popularly called KR Puram railway station, it is convenient for the east side of Bangalore. This station is on the trunk route towards the east & south sides. Some north-south bound long-distance trains skip the City and have a stop at Krishnarajapuram.
Bangalore Cantonment: A station inside the City, 5 km east of the Bengaluru City Junction.
Road Connectivity
Bangalore Metropolitan Transport Corporation buses serve the Bangalore Metropolitan Region, which covers the 40 km radius from Central Bangalore. As of August 2022, it has a fleet strength of 6798 buses. BMTC has one Vajra service to the town of Chikkaballapur.
Until now, the 50 depots of the BMTC in and around the City have been functioning independently of the wards in planning and servicing bus routes. Now, the BMTC has drawn a jurisdictional map for each depot that would include wards or a local government.
Real Estate in Bengaluru
Popularly termed the "Silicon Valley of India," Bangalore is a metropolis city known for its booming IT industry and vibrant cultural scene. With too much to offer, this dynamic City has witnessed remarkable growth in its real estate sector over the past few decades. With a wide range of housing choices, from modern apartments to spacious villas, Bangalore is a great choice for investors when investing in real estate.
Premium localities in Bengaluru to invest
IVC Road
Devanahalli
Whitefield
Banashankari
Jaya Nagar
Indira Nagar
Koramangala
Sarjapur Road
Bengaluru is considered the liveliest and most sought-after place for residential living nationwide. Population from distinct parts of India prefer to settle in the City due to its delightful atmosphere, employment opportunities, and the scope for trained entrepreneurs to set up their businesses. So, investing in Bengaluru is a lifetime investment.