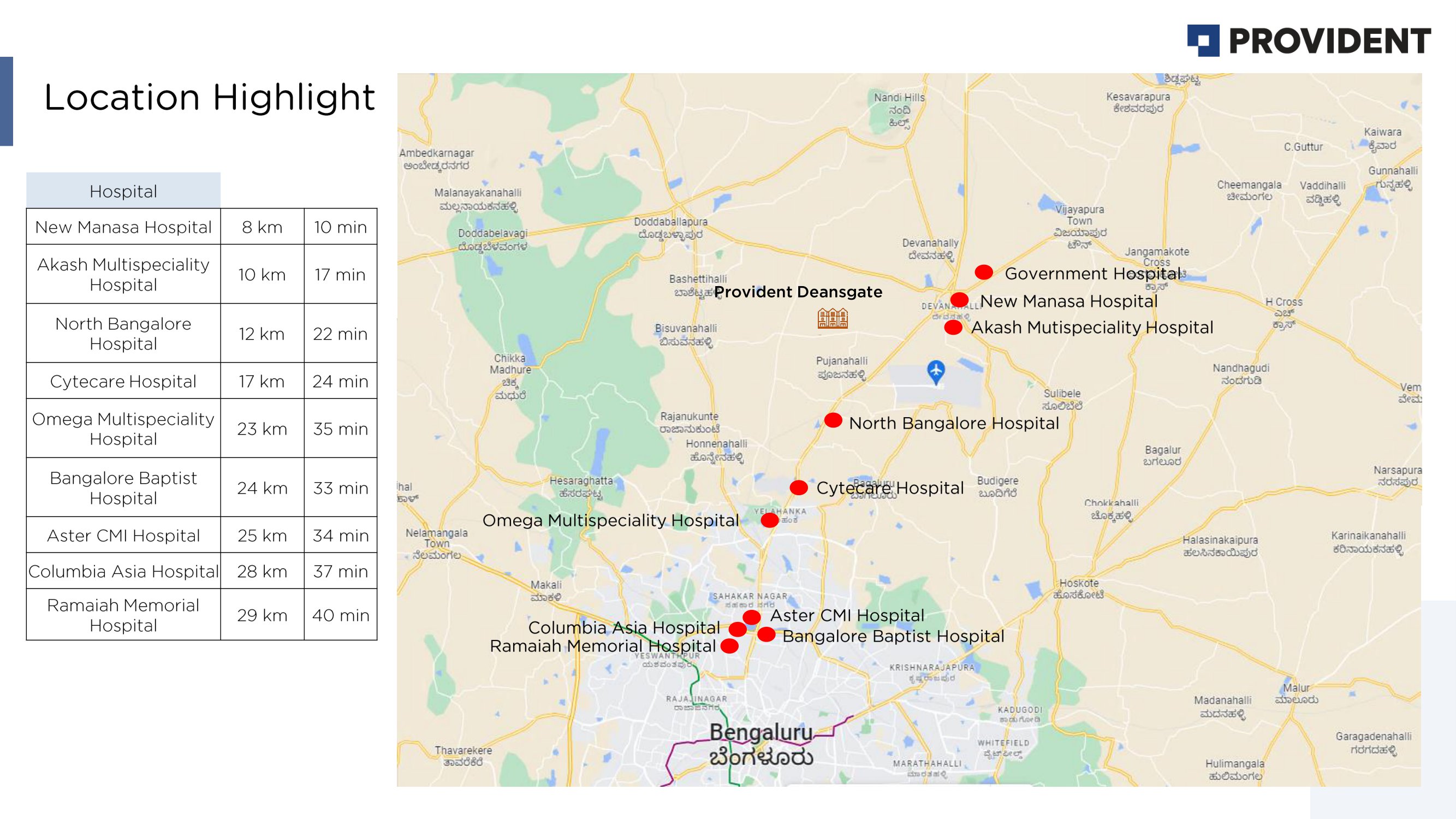 With Provident Manchester, we welcome you to a lavish lifestyle. Prominently located in the heart of one of the most famous areas of Bangalore - IVC Road, North Bangalore, Provident Manchester Location, by Provident housing offers various conveniences and comforts. At Provident Manchester, we are offering bright 1, 2, and 3 BHK premium Villament that come packed with all the ultra-modern conveniences and utilities, and with excellent location benefits, the project offers seamless connectivity to critical civil infrastructure like the upcoming metro station, prominent IT hubs, schools & colleges. The recent pandemic has dramatically influenced the preferences of property owners. Because of the importance of the work-from-home case, individuals are ready to take that extra time to examine the investing options for suitable Villament on IVC road, North Bangalore. Provident Manchester Address is IVC Road, North Bangalore.
Location plays a meaningful role in any life. Be it a rented residence or an own abode. One would look for a famous place to live so that we could get all the essential benefits at excellent. To lead an effortless and comfortable lifestyle. Investments must be made in premium locations or potential areas to keep the hard-earned money safe and secure. As Bangalore city proliferates, the town's growth is spread across all the edges. Thus the property investment in this place is made on the city's outskirts with promising development. There are many trends in Bangalore city. Per the trends plotted, Villament are most preferred in the city for their enormous usefulness and secure nature.
Provident Manchester is a luxurious villament project with rich amenities, super dimensions, and facilities. The proposed Provident Manchester is located on IVC Road, Bangalore North. IVC Road is the prime place in Bangalore as there are many actions in the suburb with many suggested development plans. The area is excellent in many aspects, like having the BIA in the same province, developing an IT epicenter, other large-scale industries, strong infrastructure, and connectivity. This area has many job opportunities for its significant number of SEZs and other IT and industrial parks.
Educational Organizations:
Anantha Vidyaniketan
Millennium World School
Akash International Resident School
Hospitals:
Suraksha Health Care
Sri Shirdi Sai Hospital
Akash Hospital
Restaurants:
Singara Gardenia
The Garden family restaurant
Prince Restaurant
IVC Road is a place located in the northern region of the city. The area is familiar to the Bangalore International Airport and thus holds a significant surge in the real estate market. This province has outstanding connectivity as the Kempegowda International Airport is nearby. Therefore the connectivity is at par in this site that, seamlessly connects the area with other parts of the city.
There are many dedicated connecting roads like:
Bellary Road
Proposed Peripheral Ring Road
Old Madras Road
NICE Road
Mysore Road
The area is one of the preferred residential areas in the city. Large numbers of professionals are now shifting here. The availability of many jobs in the area means the daily travel to work is shorter. The site is one of the primary work epicenters of the city. There are plenty of IT parks and corporate offices here. There are large plots of land available in the area. There are all types of accommodation projects being developed here. Buyers have many accommodation options, including Villament, plots, and villas.
Today, IVC Road is one of the trendiest areas in the city. More and more new lodgers are moving in. The area has a rich and youthful community, and it is a fine example of the current nature of the city. Bangalore is the country's education hub, and many schools and colleges are here. The metropolis is also a medical hub of the nation. The city has many extensive, world-class hospitals. Individuals across the globe come to Bangalore for the best medical care. The city has many big malls, fun zones, and shopping areas.
The city's realty market is growing. There are many residential projects here, and all builders are creating projects in the city. Provident Housing, the Prestige Group, the Brigade Group, and Tata Housing are some of these. Many individuals are now buying homes in the town. All residences are available here, from villas to Villament to plots. IVC Road, the project's location, is today one of the favored places to buy homes. A lot of individuals are moving in thanks to its many parts. Some of the advantages of purchasing a home at Whitefield are:
There are several tech parks around IVC Road, and the area is now a central IT epicenter of the city. There are many jobs here, making the neighborhood a gorgeous place to have a home.
Access to places of the job means shorter commutes across the metropolis to and from work. As a result, individuals living in the area have a perfect work-life balance.
The area has many essential services. Many hospitals, academies, colleges, banks, and ATMs exist. There are also many fun areas, including malls, theaters, hotels, and restaurants.
There are many residential projects in the area, and many more are in progress. Every developer has projects in the area.
Investors can choose a house that suits their budget, and there are homes in different price ranges.
There are houses of all types available on IVC roads and Villament, villas, and plots in the area.
The place is connected to all areas of the city.
IVC Road is situated in the northern part of Bangalore, and Bangalore International Airport is nearby from the locality. The area is an evolving locality that comprises villa projects, plots, and multi-story Villament. The locality is well-organized, with verdant and open residential areas with a vast possibility for investment opportunities.
IVC road is accessible from critical areas, such as NH-44, Devanahalli Railway Station, and NH-648. The locality will get an assented extension of Line 4 to International Airport under stage 2B of Namma Metro. The area houses social infrastructure like academies, supermarkets, hospitals, and malls. Some schools near the site are Akash International School, Shantiniketan Public School, Chinmayee Public School, Doffidil School, New Sharda Public School, Shreeniketan Public School, Sterling English School, and The School for Global Minds. Some nearby clinics are Ramaiah Leena Hospital, Manasa Hospital, Suraksha Health Center, Spoorthy Children's Clinic, Devanahalli Health Services, General Hospital, etc.
Business experts and job-seekers can go to some of the best IT parks like KIADB IT Park, Manayata Tech Park, Manayata Embassy Business Park, Bagmane Tech Park, H M Tech Park, Prestige Tech Park, Embassy Tech Village, Equinox Tech Park, International Tech Park Bangalore, Mind Comp Tech Park, Kalyani Tech Park, GR Tech Park, etc. The eco-friendly parks here are Narendra Jain Layout Park, Tippu Park, Swamy Vivekananda BBMP Park, Rajiv Gandhi Park, Bhuvanagiri Park, Hanuman Park, Indiranagar Park, Cubbon Park, M.N. Krishna Rao Park, Sir M. Vishveshwaraiah Park, etc.
IVC Road offers a cluster of hotels for travelers and the locales of the locality. Some of the best hotels nearby are ITC Windsor, The Lalit Ashok, JW Marriot Hotel, Radisson Blue, Taj Bangalore, Sheraton Grand Hotel, The Golden Palms Hotel, Hotel Cinnamon Hotel, Signature Club Resort, Airport Gateway Hotel, etc. The restaurants nearby are Prince Restuarant, Annapurna Restaurant, Sri Devi Bhavan Hotel, Srinidhi Vaibhava, and Indira Canteen.
IVC Road is one of the hub spots that home buyers prefer for a real estate investment. Provident Manchester Location Map can be accessed from the website.
Frequently Asked Questions
1.
What is the exact Provident Manchester address?
Provident Manchester is an upcoming futuristic pre-launch integrated villament development in IVC Road, North Bangalore.
2.
Which are the nearest landmarks close to Provident Manchester?
Nearest Landmark Devanahalli, North Bangalore.